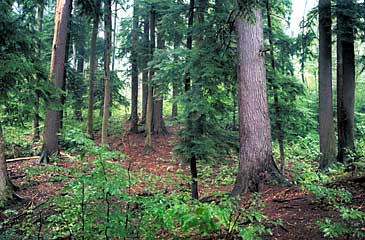 Tionesta Research Natural Area old-growth forest.
Photo by Kirk Johnson.

EXECUTIVE SUMMARY
In delivering the keynote speech at the Denver 'Wilderness 2000' conference in September of 2000, then Forest Service Chief Michael Dombeck stated that "Approximately five percent of the United States land base is designated wilderness. That may not sound like much and in fact it is not nearly enough. In revising our Forest Plans we must deliberately look for areas suitable for inclusion in the Wilderness system." Friends of Allegheny Wilderness (FAW) has taken Chief Dombeck's admonition to heart as the Allegheny National Forest (ANF) undertakes revision of its Land and Resource Management Plan (Forest Plan).

Currently there are just two ANF areas designated as wilderness under the 1964 Wilderness Act - the Hickory Creek and Allegheny Islands Wilderness Areas - together encompassing approximately 9,000 acres, or less than two percent of the 513,000-acre Forest. This compares to 18 percent of Forest Service land designated as wilderness nationwide, and 11 percent in the Forest Service's Eastern Region, of which the ANF is a part. This Citizens' Wilderness Proposal for Pennsylvania's Allegheny National Forest identifies a total of 54,460 acres of public land in eight different tracts within the proclamation boundary of the ANF that we believe qualify for inclusion in America's National Wilderness Preservation System. We have also identified three additional parcels totaling 14,330 acres that could be designated as national recreation areas. Together, these proposed designations include public lands within Elk, Forest, McKean, and Warren Counties. In some cases our proposal corresponds to past inventory work of the Pennsylvania Sierra Club or the Forest Service's own roadless analyses. In other cases, it includes public lands which have wilderness qualities but have previously been overlooked.

The ANF, Pennsylvania's only national forest, is located in the densely populated eastern United States and is within a day's drive of half of the country's population. Large urban centers such as Buffalo, Cleveland, Detroit, Philadelphia, Pittsburgh, Washington, D.C. and others are all within easy reach for those seeking a weekend wilderness retreat. While the eastern United States holds about 60 percent of the nation's population, it contains only about four percent of the National Wilderness Preservation System. The 1986 ANF Forest Plan identifies the acute wilderness shortage here, stating: "It seems obvious that the demand for wilderness designation on the Forest is high, and the available supply in the regional area is low." Further, the 1975 Eastern Wilderness Areas Act recognized that "In the more populous eastern half of the United States there is an urgent need to identify, study, designate, and preserve areas for addition to the National Wilderness Preservation System." Although more than 30,000 acres of ANF wilderness was originally proposed in this legislation, none was included in the final version of the bill. While we recognize the importance of continued ANF timber production to the regional economy, it is vital at this juncture to complete the mandate sought by Congress more than a quarter century ago with the Eastern Wilderness Areas Act here on the ANF. Our goal is not to impede or reduce timber production or other multiple uses of the Forest, but simply to permanently protect the remaining wild areas here for the benefit of current and future generations of Americans.

Although a great deal of planning has gone into the forging of this proposal, it cannot be said that it is a perfect document; nor should our proposed wilderness and national recreation area boundaries necessarily be viewed as static. Our proposal is based on the most current information that we have been able to gather through extensive field inventory, from Geographic Information Systems data, from information provided by the Forest Service and other organizations, through interviews with various agency personnel, through hours of discussion with key stakeholders and experts, and as the result of much internal debate with regard to which ANF lands should be included in our final proposal. We welcome dialogue on this document and realize that the process for any public lands legislation requires the constructive exchange of information, and communication amongst the stakeholders involved.

Click on any of the following links to load a jpeg of the area's map:

Wilderness Areas
Allegheny National Forest Wilderness and Recreation Potential
Allegheny Front Wilderness - Proposed
Chestnut Ridge Wilderness - Proposed
Clarion River Wilderness - Proposed
Cornplanter Wilderness - Proposed
Hickory Creek Wilderness addition - Proposed
Morrison Run Wilderness - Proposed
Tionesta Wilderness - Proposed
Tracy Ridge Wilderness - Proposed

National Recreation Areas
Hearts Content National Recreation Area - Proposed
Minister Valley National Recreation Area - Proposed
Scandia National Recreation Area - Proposed
Tanbark National Recreation Area - Proposed


Download a PDF version of the full Citizens' Wilderness Proposal (5.6 MB).